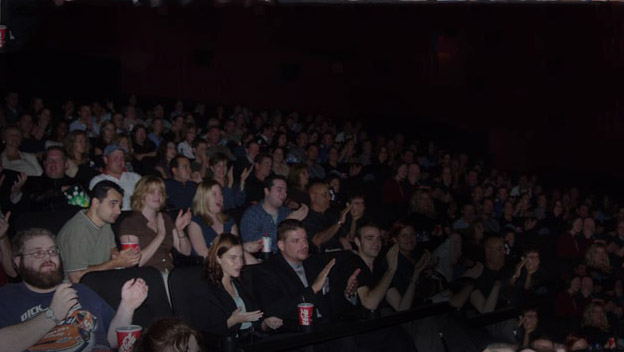 ---
READING, PA (Saturday, September 27, 2003) Over 250 invitees — including cast, crew, location owners, and more – packed the main theater at Fairground Square Mall's Cinema Center for the first-ever screening of the final cut of Neo-Pangea's "Townies". Cast members on hand for this exclusive screening included Rebecca Kimball, Ernest Waddell, Nakia Dillard, and Marc Solomon.
The festivities kicked-off shortly after 7 p.m. as Producer Gordon Holmes thanked the crowd on hand for their work and support over the past two years of production. The film then played for the crowd on hand.
"Going into something like this, you're going to be nervous," said Producer John Carmello, "but having them laugh at the first joke takes an enormous weight off of your shoulders. Having them laugh at each joke that follows really makes you feel better. Eventually we were able to breathe easily and enjoy the movie ourselves."
After the screening, a reception was held at the Canal Street Restaurant and Pub. Official "Townies" merchandise was available at the reception, however several pieces sold out very quickly. These items will be reordered and will soon be available to purchase at www.areyouatownie.com.
"We're ecstatic." Producer/Director Brett Bagenstose exclaimed at the reception, "I don't think this evening could have gone any better. It was great to have an opportunity to thank everyone who made this possible. And, someone bought me a beer!"
For more information on Neo-Pangea's "Townies" including scenes, trailers, bios, and more, visitwww.areyouatownie.com. Pictures and video from the event will be online soon!