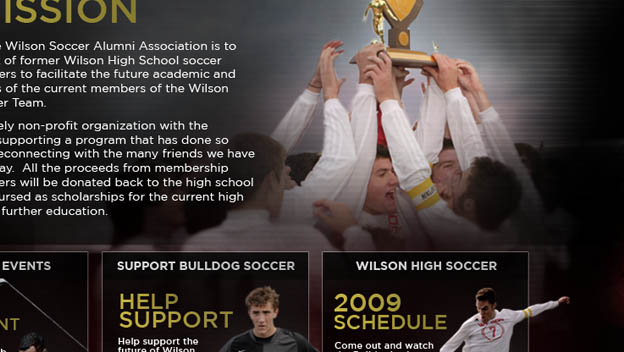 ---
The team at Neo-Pangea announces their involvement with the Wilson Soccer Alumni Association's rebranding and website design. The launch of the non-profit organization WSAA's website, www.bulldogsoccer.org, coincides with their annual charity golf fundraising event happening Saturday August 1st 2009.
The mission of the Wilson Soccer Alumni Association is to provide a network of former soccer players & supporters to facilitate the future academic and athletic endeavors of the current members of the Wilson High School Soccer Team. The WSAA is a completely non-profit organization. The proceeds from membership dues and fundraisers are donated back to the high school program and disbursed as scholarships for the current high school players for further education.
Neo-Pangea Creative Director Brett Bagenstose is proud to be a part of the program. "I was never very good at soccer, and much worse at Golf, but higher education is pretty costly these days so donating some time and materials to help out a noble cause makes you feel pretty good. We're also stoked to show off our kilts at the Golf Fundraiser this weekend."
The 3rd Annual Wilson Soccer Charity Golf Outing will be held Saturday August 1st at Golden Oaks Golf Course. 2008 WSAA Scholarship winner Josh Shutter went on to play soccer at Clemson University. 2007 WSAA Scholarship winner Scott Krotee plays for Gardner-Webb.
Based in West Reading, Pennsylvania, Neo-Pangea is an innovative agency that specializes in digital video and audio productions, Web design, interactive experiences, and live multimedia performances. It has created successful promotions for Fortune 100 brands such as Wal-Mart, Nike, Motorola, Comcast, and National Geographic.
For more information on Neo-Pangea, visit www.neo-pangea.com.
For more information on The Wilson Soccer Alumni Association and their upcoming events, visit www.bulldogsoccer.org