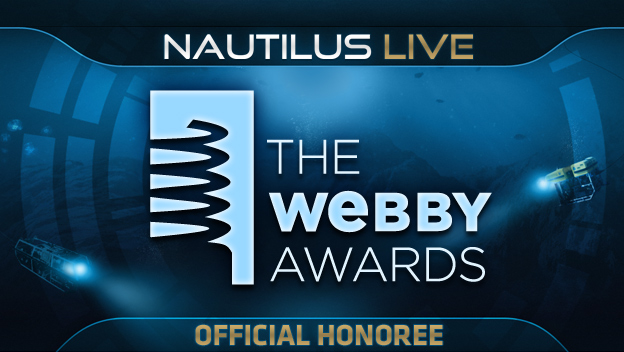 Award
Nautilus Live a Webby Honoree
---
Even with so many exciting things going on at the moment, we thought we should come up for air long enough to share some fantastic news. The Nautilus Live website, which we designed for Bob Ballard's Sea Research Foundation and National Geographic, has been selected as an Official Honoree in the science category of the 2013 Webby Awards!
Filled to the gills with live video feeds and informative content, site visitors were able to participate in the undersea exploits of Dr. Bob Ballard and the intrepid crew of the Nautilus in real time. Extensive photo and video archives, student and teacher resources, and a boatload of other goodies make this site an exciting, educational journey under the sea. Thanks to our cutting-edge designs and the amazing Web wizardry of dedicated Sea Research Foundation techs, sea exploration fans experienced the unfiltered thrill of discovery right alongside the crew.
Presented by the International Academy of Digital Arts and Sciences, the Webby Awards have been honoring the very best of the Internet since 1996. This year, more than 11,000 entries from all over the world were submitted in hopes of securing a Webby Award, so we're as pleased as a hungry shark chowing down on a fresh bucket of chum to be among the honorees.
Feel like taking a dive into the murky oceanic depths? Learn more about our adventures in the briny deep on our portfolio page.