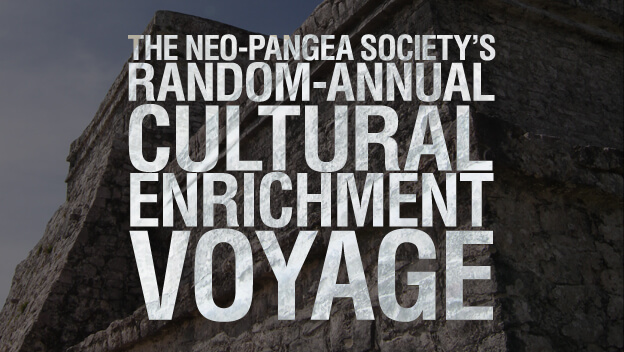 Multifarious
Random-annual Cultural Enrichment Voyage, Version Two
---
At Neo-Pangea, we firmly believe in the old adage, "Work hard, play hard." — generally with both happening at once. The stresses of working on a close-knit team in a competitive industry such as ours can take their toll without the occasional foray into unmitigated fun. While our day-to-day stress release valves may take the forms of randomly blasting each other with Nerf guns or wagers that result in the loser cross-dressing in the office for a day, we like to take it to Another Level every so often.
By "Another Level," we mean an international excursion. When the time comes, adventurous Neo-Pangeans rally together and set forth on a company-sponsored grand adventure, the location of which is known only to our illustrious leader. Participants receive only the vaguest instructions about what to bring with them for several days of joyous mayhem, but no other clues that might reveal the group's destination. Only when the journey begins will the group learn what lies before them; the mystery of it all is part of the fun. Last time our heroes awoke to tropical birds chirping and the peaks of Mayan Ruins filling the windows of their questionable "vehicle".
While the main goal of this sojourn is not just to reward the outstanding professionals who continue to make Neo-Pangea a respected creative powerhouse, but to plan the direction of research, business goals, and new technology for the coming years. The size of our team enables us to stay nimble and to collaborate in ways that simply aren't possible in larger organizations, but that sort of intimacy requires a great deal of trust. Shared experiences like our Random-Annual Cultural Enrichment Voyage help us all to get to know each other beyond our professional specialties and to strengthen the bonds of friendship and trust that make the Neo-Pangea Society so very special.
Although we must politely remind you that this trip is for Neo-Pangea Society members only, we invite you to read this year's invitation below. If you would like to join us for next year's excursion, we suggest that you review our available career openings on our Lab page, make the best career decision of your life, and apply for membership in the Neo-Pangea Society!
2013 Invitation
Dear Neo-Pangea Society Members,
If you have opted to participate in the 2013 Annual Random Cultural Enrichment Voyage, rejoice! With a little more than a week before we depart for Parts Unknown, our itinerary has been finalized.
This exclusive Society-only adventure is scheduled for February 7th – 11th. It will likely include international travel, so be warned – your vaccines and related documentation need be current.
The destination will not be disclosed until we are boarding the most appropriate conveyance for our journey. While we shall leave the care of our nigh-impregnable garrison in the capable hands of our remaining comrades, we encourage you to make every effort to minimize the impact of your absence before our departure.
What to bring: (pack light)
valid US passport
pants, 1
shorts, 1
bathing suit, 1
t-shirts, 5
dress shirt, 1
sweatshirt, 1
gloves, 1 pair
sun screen, 1
underwear, 5
socks, as needed
toiletries as approved by plane restrictions
$100. USD cash
Together, we will build upon the foundation that we share and renew the bonds that sustain us. May our travels be safe, and may the wounds from our adventure mend quickly with only minimal scarring.
Your friend,
Neo-Pangea