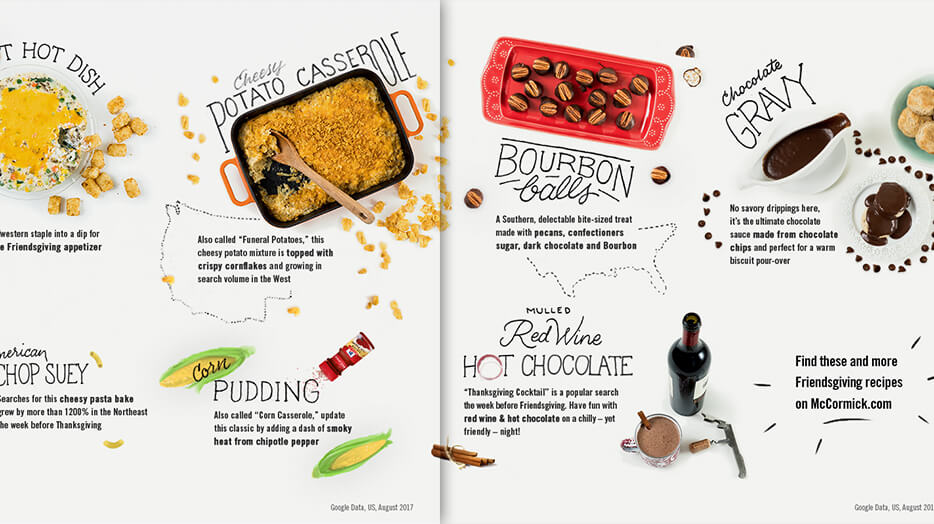 Enhance your cooking skills with relatable and recreatable recipes and other highly shareable social content created to promote the easy use of McCormick spices and  products.
Creating stand-out, compelling social content in the cooking space takes insight, due to the landscape's high level of saturation. We took on the challenge with a diverse collection of recipes and infographics meant to gratify, educate, and inspire a social media savvy audience. From Google-based research into the most searched Thanksgiving-time recipes to extract-infused cocktail creations, every image was carefully crafted with polished photography and McCormick's bold brand standards. To fit the contrasting subject matter of so many seasons and themes we utilized some hand-penned typography, custom iconography, and dimensional headlines knocked out of different ingredients an creations.
Although created primarily for digital platforms we drew on an accumulation of classic print design sensibilities, which went into the production of this content. We did this because cooking is such a quintessential hands-on activity, and we wanted to incorporate all of those tangible qualities so that everything felt true to the core concept of helping real people craft cooler, tastier, more stand-out dishes. Although the subjects were often varied, as with everything we do, research, exploration, experimentation, and a pinch of Old Bay went into each individual item of content, so every individual piece we created was well focused.
---
We helped Frank's Red Hot heat up a rivalry with Stubb's BBQ on social media.
---