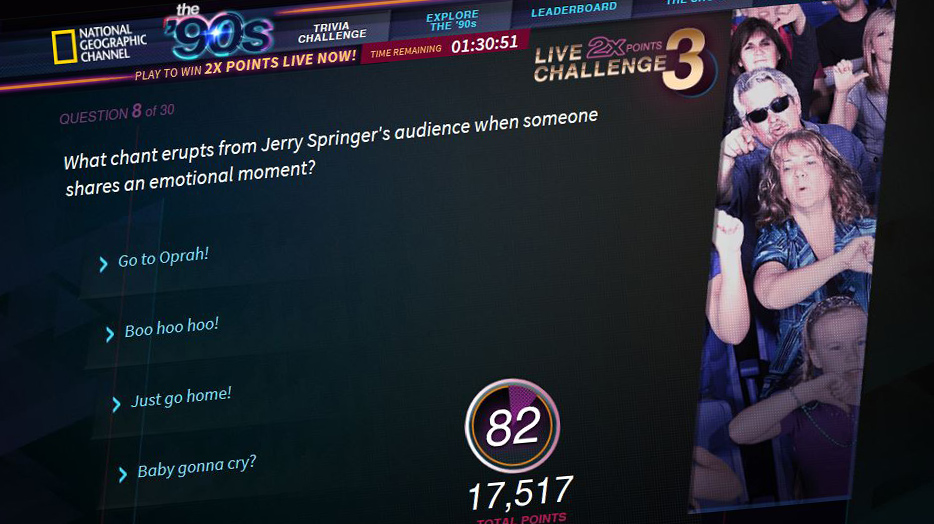 An agglomeration of minutia fixated on the 1990s titillated and astounded citizens of the 21st century. This multifaceted contest of wit and skill kindled rivalries the world over and inspired personal reflection of future days past.
The '90s called… They wanted their trivia back, so we made it happen! Part pulse-pounding live online game show, part nostalgic trip into the 1990s, our Rule the '90s Trivia Machine brought hours of pre-millennial entertainment to desktops and mobile devices everywhere. Crafted with intense Generation X angst and swaddled in the finest flannel, this prize-laden, multi-week online trivia extravaganza felt like slam-dancing through yesteryear. The Trivia Machine challenged viewers of National Geographic Channel's The '90s: The Last Great Decade? three-part miniseries to answer quickly, answer correctly, and build their best score to climb to the top of the worldwide leaderboard for a chance to win some great '90s swag.
We styled the experience to reflect the sights, sounds, and slang of the '90s to transport players back into what may have been the last great decade. To appeal to generations weaned on multimedia multitasking, trivia questions were unlocked in sync with each episode's premiere broadcast. Players earned double points for playing along live, putting them in direct competition with other eager retronauts. For a leisurely mega-dose of throwback fun, a pog-themed nostalgia factory featured tons of "remember THAT!?" nuggets of cultural bliss that let anyone explore the highs, lows, and general confusion of the '90s at their own pace though archival photos, vintage videos, and original text. The decade never looked so good.