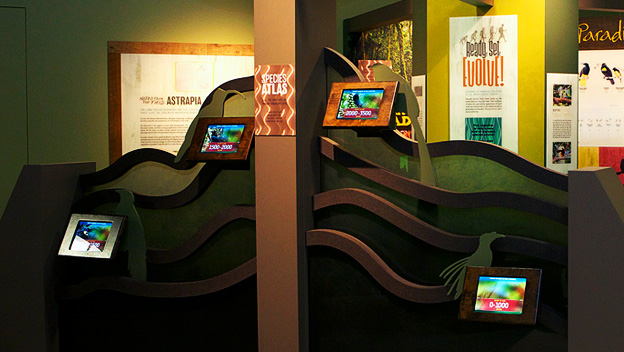 Love bird watching in New Guinea, but fear the parasitic doom of malaria? Not to worry! Glorious plumage and curious behaviors are on full display in this museum exhibit guide for the wondrous iPad  device.
With the Birds of Paradise app for the iPad, one needn't be a professional ornithologist to enjoy a day of exotic bird watching. Birds-of-paradise are a strange and colorful family of birds living primarily in their secluded island habitat of New Guinea. Without a significant threat from natural predators, the males have been allowed to evolve more along the lines of form than function, proudly displaying eye-catching plumage and engaging in elaborate mating rituals to attract females. Recognizing their exotic appeal, the National Geographic Museum in Washington, D.C., showcased these amazing creatures with a lauded six-month engagement, the Birds of Paradise: Amazing Avian Evolution exhibit.
To help museum attendees get the most from their visit, we created interactive bird guides for this immersive exhibit. The bold, bright design of the app was inspired by the vivid colors and unusual markings of its subjects, and the graphics take full advantage of the iPad's Retina display. Touching the screen opens the main bird gallery, and tapping on an individual bird reveals a wealth of knowledge about the selected specimen. Featuring stunning high-resolution photographs and videos, habitat maps, and interesting facts about 39 different birds-of-paradise, the app helps visitors learn more about these magnificent birds and feel more engaged with the educational content.
Perched atop a platform in the exhibit's elevation display, this dynamic iPad app features efficient administrative controls that enable museum curators to customize the app's performance for different areas of the tour. A live video screensaver embedded in the app entices visitors to interact with the installation.
Birds of Paradise: Amazing Avian Evolution was named one of the Top Five Museum Exhibits of 2012 by The Washington Post, which is high praise in a town bursting with fantastic museum exhibits. Thanks to Neo-Pangea and National Geographic, bird lovers can leave their binoculars in the closet and embark on a virtual birdwatching expedition to see some of the rarest birds in the world!
---
---