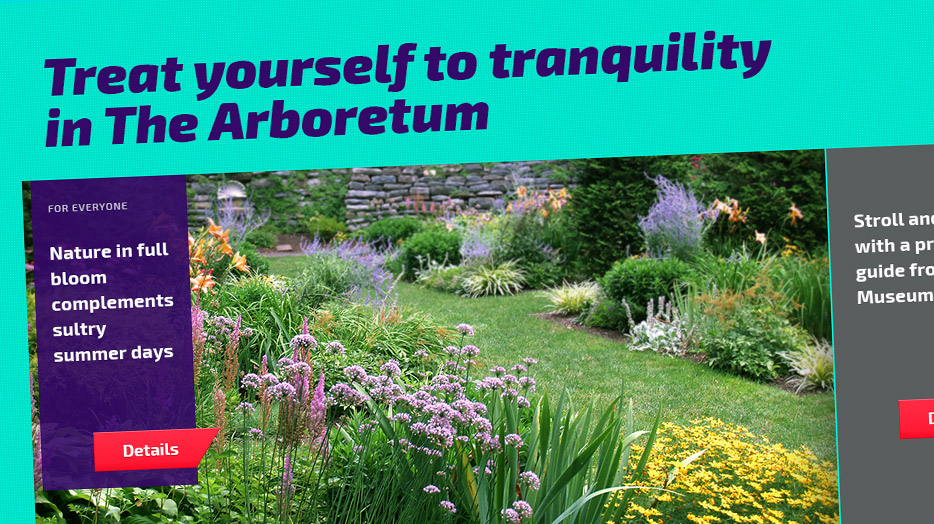 When cultural fervor strikes the mind, embark on an intellectual expedition at the Reading Public Museum! Behold art-adorned walls and artifacts aplenty that will edify even the most erudite of exhibit  enthusiasts.
For more than a century, the Reading Public Museum has been at the forefront of hands-on learning, feeding curious intellects hungry for active participation and personal experience. A world-class collection of more than 300,000 cultural artifacts brings history alive to support the RPM's mission to engage future generations as a dynamic center of learning and discovery. At the museum, the arboretum, and planetarium, ongoing activities encourage visitors to reap the benefits of this valuable, educational resource. To help the museum fulfill its vision, we relived fond memories of school field trips and planetarium visits with our families to restructure a website in need of an overhaul. We gave RPM's image a fresh coat of paint and added some flashy new features to its website to present their ever-changing schedule of events in a memorable way.
Our main goal in redesigning the Reading Public Museum website was to develop a strong hierarchical structure around the idea that, "Today, there are things to do at the museum for everyone." Whether it's about group tours, workshops, or hosting events in the space, logistics to plan and book events are available at a glance. An animated home page suggests movement and excitement, while the bold color palette paints the picture of a modern display entity and event space. Via the top navigation bar, prospective guests can find out exactly what's going on, when, and where with a design that streamlines all the relevant details. Site visitors can take a virtual glimpse into the museum's collections or explore a calendar page featuring current news. This mobile-responsive display is specially geared for planning a memorable day at RPM.
---
Responsive Design Improvements

The new site is optimized for monitors of any size so visitors can easily access info at home or with their mobile devices on-the-go.  

Designed with Your Day in Mind

A visitor study revealed what people generally do before, during, and after a visit to the museum, and the results influenced our architectural choices.  

Preliminary Wireframing

Using wireframes, the original content is designed to fit into a strong navigational structure.

Everything at Your Fingertips

Relevant  information tailored to the visitor's needs can be accessed on any connected device.

Look Inside the Vault

Visitors can tour an image gallery of select works of art at the museum. Powered by Instagram, viewers have the option to interact by liking and commenting on individual images.
---