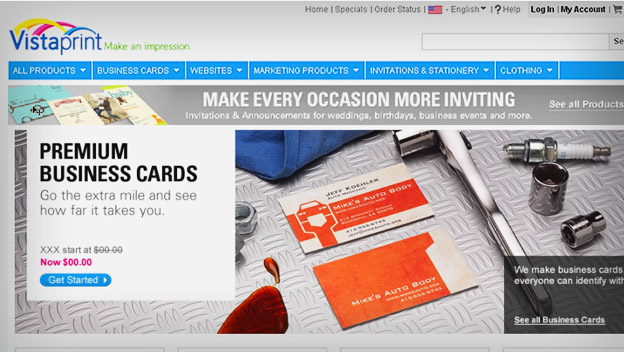 Autonomous information dispensers powered by Neo-Pangea electro-brains adorn the lobby of Vistaprint headquarters, beckoning curious visitors with touch-screen siren songs. Touch, and be mesmerized by the power of  print!
When Vistaprint decided to re-imagine the lobby in their corporate headquarters, they needed an efficient, engaging way to help their visitors get acclimated. Neo-Pangea's technical gurus came to the rescue by developing a pair of custom applications designed to run on two 70" touch-screen kiosks, with each kiosk dedicated to one app. These tastefully implemented kiosks are the perfect marriage of form and function, intriguing and educating Vistaprint visitors on the expansive printing services and products that have made Vistaprint an industry leader.
The Adobe Air platform provides the foundation for these apps; one focuses on Vistaprint's "People" (customers), the other on Vistaprint's "Products." The individual apps share colorful, clean design tiles that provide easy navigation of an impressive array of materials. Vistaprint guests are able to use familiar touch controls to browse client testimonials, color photos and videos, product galleries, and more.
Each app features three home screens comprised of various content offerings. Elegant motion transitions and animated backgrounds provide slick kinetic energy that captures the attention of passing visitors. We created a brief video tour of Vistaprint's website for the kiosks and prepared dozens of resources that were used in the galleries.
Assets produced for television commercials and internal use were incorporated into the apps, collecting all of Vistaprint's stories in one place and providing a fresh venue for their previous media investments. Some items include controlled access to live Web content, providing the most current information available through safe, seamless integration into the app interface.
If you find yourself in the Vistaprint lobby, please explore the kiosks and give them a big hug for us!
---
---