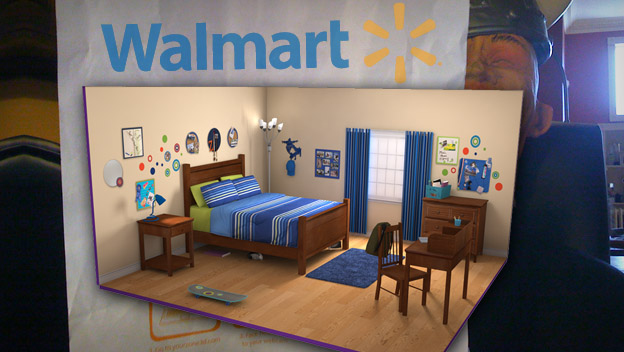 Are specters haunting your monitorscope?! Worry not... that's simply Neo-Pangea's augmentated reality project, "Your Zone" creating a real-time 3D image of Your Zone furniture, bedding, decor, etc using your Web cameragraph. Crafted in partnership with Walmart and The Martin  Agency.
Augmented Reality room featuring real-time changing furniture and decor for the Walmart Your Zone brand. If you're not familiar with AR, it is a fairly new technology that requires a web camera. You need to print out the provided "marker" hold it up to the camera to view the 3D object.
Walmart's new Your Zone product line is meant to help coordinate teenagers ever changing style.The interchangeable product line includes wall art, lamps, rugs, furniture, bulletin-boards and any other room decor you can think of. All this, in dozens of coordinating tones and fabrics. Our goal was to get this vast product line into the hands of families, before they head to Walmart. We also wanted to showcase the diversity of the styles and patterns in a new way.
Utilizing the entrancing power of Augmented Reality, a special "marker" would be added to all of Walmart's Your Zone advertising that would allow the website visitor to literally hold the products in their hand. A 3D room comes to life in your hands, allowing you to see the decorations and accoutrements change before your very eyes. Easter eggs like a rolling skateboard helped excite the audience to share the site with friends.
---
---
---
Total Award Items: 2
Total News Items: 0
Total Items Combined: 2
---
---